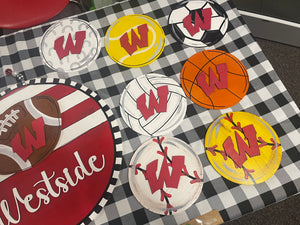 These minis are cut out of 1/4 inch MDF, sanded and painted with acrylic paint. It is sealed with a clear protective coating that prevents chipping, peeling, fading, or yellowing. Each mini comes with Velcro. Measures 8" in diameter. 
Please know that some variations will happen as these are handmade and hand-painted by myself. Since these are hand-painted, the back of each board may have paint on it due to the item being hand-painted. The backs are not painted, but will do so upon request.
Thank you for shopping with Doorbadges! Please know that DoorBadges has no control over shipping transit times. 
I do not accept Returns or Refunds since items are made-to-order. However, if there is a problem with your order, please contact me to discuss.
Questions, concerns? Email me at doorbadges@gmail.com