What Customers are saying....
Love it!! The colors are bright and such great quality! Also, Amy is always great to work with, responds quickly, is willing to make any changes, and wraps everything so carefully!

hartleysn
Love this door badge!! Super cute and perfect size. Shipped on time and was packaged nicely. Will definitely purchase from this shop again. Thank you Amy 😊

Angie Smith
The quality & workmanship is top notch! I love everything about it. Amazing colors & the size. Just perfection!!! Communication & delivery spot on! Thank-you

Corrien
I love it!!! So cute. I will be buying more in the future. Thanks

Cassandra
This is soooo Cute!! I love it ! Amy is very talented. She does make them as you order them so it does take a little while to get the item but it was worth the wait!

stacy
Really cute, just as pictured. Nice size, not too large. Arrived when estimated. Festive and fun decoration! Thank you!

mindilund
5 out of 5 stars

It's perfect! Very nice work, just what I was looking for!
Will definitely buy from again! Thank you! Great communication from seller!

Lois
I loooovvveee my door hanger!!! It was made in time and shipped very out quickly. Response was quick when ever I had a question I give her a 10/10 will highly recommend and will be ordering again thank you so so much!!!

Ashley
Door Badges is Absolutely the Cutest lil' shop !!! Amy is So Talented ..
Everything she made for me is Absolutely Adorable !!! She can create just about Anything you want ! I already am looking for Valentine things & Easter - Her turn around time is so fast ~ That's another thing i ❤️ about Door Badges -

Thank u guys for making "all" of my darling door hangers ..

💘💘💘💘🎅🏻🥛🍪🤶🏻

Kim
About the Artist
Welcome to DoorBadges! My name is Amy Hanna, I am married and have three amazing kids. I live in Nebraska where the winters are cold and the summers are humid. I am proud to offer items that are made-to-order and often personalized from my basement workshop. My door hangers, ornaments, specialty signs or doormats make perfect gifts for family, friends or for yourself! Who doesn't like something that is made especially for them...something that can't be bought in a big box store. I do not offer returns or refunds due to my items being hand-made and in some cases personalized. However, if there is a problem, please contact me and we will find a solution together. Please remember that my work is handcrafted and made to order by myself, so please allow additional time for completion and delivery. Also know that I don't have control over shipping transit times...so once it leaves my shop it's out of my hands. Thanks for understanding.
I appreciate your support of my small Mama-run business! Questions or comments? Email me at doorbadges@gmail.com.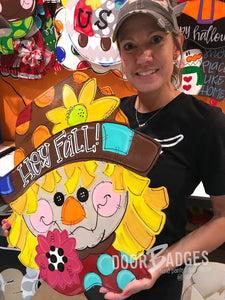 Return Policy
I am so glad you have chosen to shop with me!
I do not offer returns, refunds or cancellations due to the nature of my items are made-to-order. I do not keep an inventory of items on hand, unless I am having a live sale or event. Because my items are handcrafted and most often personalized, I am unable to resell the item(s). However, if there is a problem with your order or you have questions or concerns, please contact me at doorbadges@gmail.com and we will work together to find a solution.
Thank you for your support!