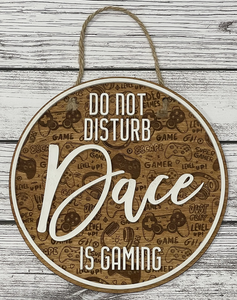 > 1/8" Wood - so it is lightweight for bedroom doors; can easily be hung with command strips

> Sanded and stained  - might be variations in wood grain.  Paint is water-based.

> Sealed with a Clear Protective Coating that protects against chipping, peeling, fading and yellowing
> Hangs from Natural Jute

> Doorhanger measures 15" at tallest or widest point

> Please insert Name

Please know that some variations will happen as these are handmade, and hand-painted by myself in my craft room. Imperfections can happen and are to be expected with items being hand-crafted. Since these are hand-painted, the back of each board may have paint on it due to the item being hand-painted.

I do not accept Returns or Refunds since items are made-to-order. However, if there is a problem with your order, please contact me to discuss.
Please allow 4 weeks for item to be made.  All items are made-to-order.
Questions, concerns? Either email me at doorbadges@gmail.com.